LF X PHILIP KINGSLEY EDIT

Revive your haircare routine with 6 nourishing haircare heroes (4 FULL-SIZE), including the iconic Elasticizer, and much more! Worth over £135, yours for just £50!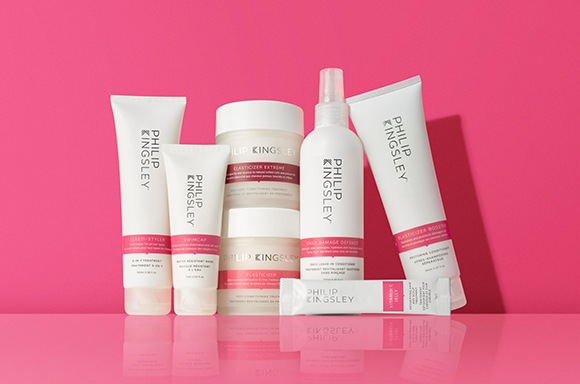 ABOUT PHILIP KINGSLEY
At Philip Kingsley we don't just sell hair products, we bottle self-belief. We understand that it's not how you look that defines you, it's how you feel. We understand that hair is more than a style. Whether you have a hair health issue or you just harbour a desire that your hair could be enhanced, we can make a difference. From our Mayfair, London home, and using Trichology (the science of hair and scalp) as well as psychology, Philip Kingsley products, consultations and services deliver 'Life changing hair'.

Philip Kingsley Elasticizer hair mask is renowned for transforming and instantly improving overall hair health and strength. Clinically proven*, this award-winning deep-conditioning pre-shampoo treatment restores elasticity, strength and moisture to the hair, while reducing breakage, leaving dry, brittle locks nourished, super-shiny and more resilient against everyday stressors.

DISCLAIMER: *REDUCTION IN BREAKAGE AFTER ONE USE - INDEPENDENT INSTRUMENTAL TEST
While Philip Kingsley offer various shampoos targeting every hair and scalp concern, their Density range is specifically designed to address hair loss, shedding and breakage in fine, fragile hair types. Formulated with advanced thickening ingredients, Density Thickening Shampoo works to instantly volumise hair without causing dryness, promoting thicker, healthier, stronger strands.
Philip Kingsley Elasticizer is a multi-award-winning pre-shampoo hair mask clinically proven to reduce breakage after one use*. It deeply conditions and improves hair's elasticity and therefore strength. By flooding moisture and nourishing nutrients into the hair shaft, it increases shine and improves tangles and manageability, instantly enhancing the overall health and appearance of your locks.
DISCLAIMER: *REDUCTION IN BREAKAGE AFTER ONE USE - INDEPENDENT INSTRUMENTAL TEST