Move over classic cat-eye, there's a new hero in town! Graphic liner is the new trend sweeping the beauty industry and here at LOOKFANTASTIC, we are obsessed. Whether you're trying out a bold new look for a festival, or simply want to update your makeup routine for your next night out, graphic liner is a great way to make your eyes pop.  
The best thing about graphic eyeliner is that you can be as creative as you want to be with it, and tailor your look to any occasion. Whether you like bright colours or funky shapes, there's something for everyone. We've put together a round-up of three stunning liner looks created by LOOKFANTASTIC Beauty Pro Millie McCarthy (@milliemacmakeup) that you can try yourself at home, or for your next night out. WARNING: you're about to become seriously obsessed.  
LOOK ONE: Pretty pastels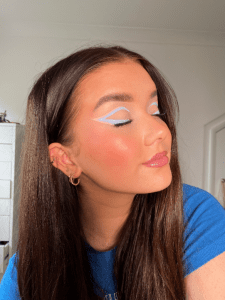 Liner doesn't always have to be in the same old dark colours. This pastel-toned look compliments lighter eyes, and is ideal for the spring and summer months.  
[su_youtube url="https://youtu.be/nfxktGZR3QI"]
STEP ONE
Take the Lime Crime Venus Liquid Liner in the shade Dew Drop and draw a dramatic wing along your lash line.   
STEP TWO
Using the same shade, start at the end of your wing and draw a line inward along the crease, following the natural shape of your eye.  
STEP THREE
Now pick up the shade Peony and use it to line the outer edges of your double-layered wing.